Book: Love Reflection
Series: An Entwined Hearts Novel #1
Author: Maria Macdonald
Genre: Contemporary Romance
Cover Designed By: Francessca's Romance Reviews
Hosted By: Francessca's Romance Reviews

Synopsis:
What happens when you find the love of your life, then you lose them?

Pearson Amberry lost the only man she'd ever loved. She has secrets she's kept close for many years. Descending into a downward spiral that she couldn't pull herself out of, her life was fast becoming just an existence. That was until a new man entered her life. A man with secrets of his own, and when the love of her life comes back unexpectedly, she knows it's time to come clean.

Conner McKenna took a step back when he hurt Pearson. He left for another country when his work took him there, even though he didn't want to. After years of trying to be her friend, and wanting to be back in her bed, he decided enough was enough. When one of their friends is attacked, he realises that life is too short and he needs to move heaven and earth to try and win her heart one more time. However, when he realises the truth will he be able to deal with it, and will he still look at Pearson the same way?

What will happen when secrets are revealed, and emotions are running high? Can they move on from their past and can they recognise the love reflected in each other?

Add To Goodreads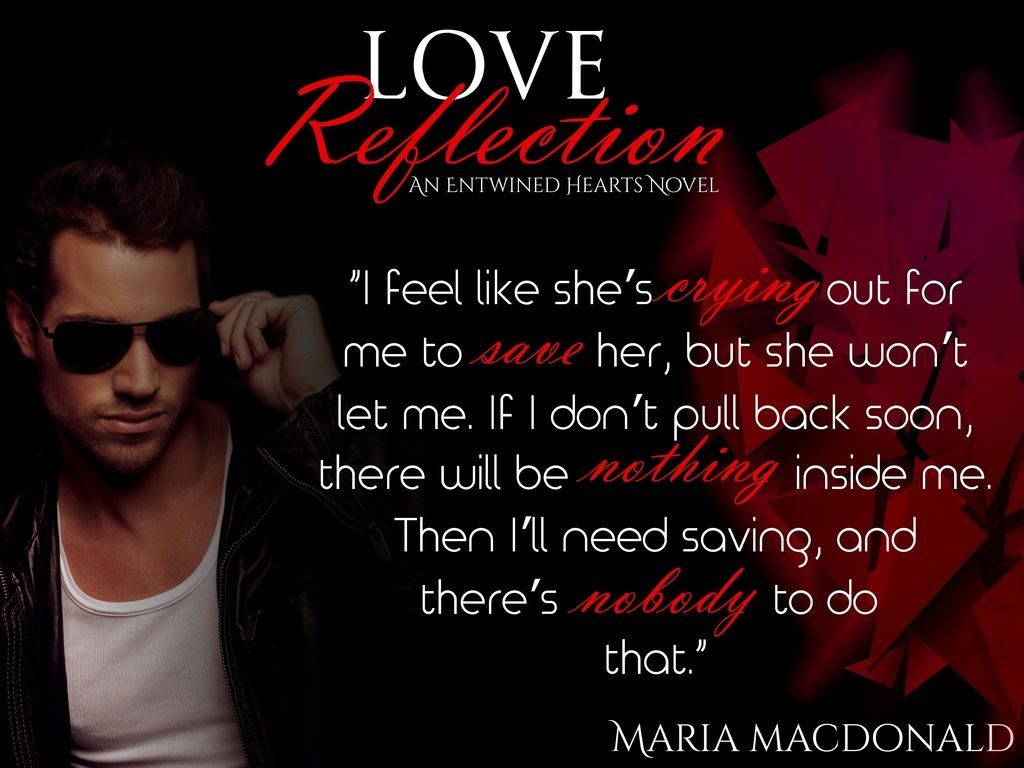 My Review
I want to introduce you to a new Debut Author Maria MacDonald with her first book Love Reflection.
And what a Debut book it is.
I always think that authors are so brave, especially when releasing there first book. They take a chance on doing something they love and put it out there for the world to read.
I honestly don't think Maria has anything to worry about as this book is amazing. If this is the quality of a first book I cant wait to see what the future books are like.
You know I don't do spoilers and this is no different. I will tell you that this book has everything you could possibly want from a book that grabs you from the first page. I read it in one go.
Maria, This book is flawless and stunning in it's entirety. It's character are well written. The story is exceptional.
You need to add this to your "TBR" list.
Excerpt

He puts a knee on the bed and arches his body over me with one hand above my head, then his other knee hits the bed and I'm under him and surrounded by him. He sits back on his haunches and stares at my body.
"Let me see what's for dessert… under the wrapper." He grins like the cat that got the cream and brings both his hands to my thighs, slipping them underneath my dress while hooking his thumbs on the edge shimmying both sides up. I feel the cool air hit my sex as the bottom of my dress passes it. He pauses and looks down. "Mmm," he says and licks his lips. I feel myself spasm and my stomach twirl. He starts moving my dress up again and I lift my bum slightly so it can continue. When he gets to my breasts he moves his hands away from the edge of the dress, and pushes them up across my stomach until he has one hand under each breast then he stops and looks down at me again. His eyes roaming my face, he licks his lips and slips his hands over my breasts. I drag in a ragged breath and my eyes flutter closed.
"Open," he demands and my eyes pop open to see him staring at me. "Lift your head and keep your arms by your side," he orders. I do as I'm told. He brings my dress over my head and down my back slightly, but just when I think he's going to slip it off my arms he stops just above my elbow.
I draw in my eyebrows and murmur, "Urm."
Which is enough for him to say, "You won't need your arms, not for what I have in mind," and just the way he says it, all controlling and sexy, makes me wetter than I already am.
He prowls over me again and leans down to my ear, he whispers, "Keep your eyes on me." Then he softly bites my earlobe and then kisses under my ear and down my neck. I keep my eyes open, although it's hard. He knows I love my neck being kissed. He moves down to my throat and nibbles his path to my breast. Licking around my breast nearly sends me into overdrive and I have to stop myself from physically trying to force his mouth onto my nipple, not that I could because my arms are pinned, which is a turn on in itself.
Finally, his mouth moves over my nipple. His tongue circling a few times before he takes it into his mouth and sucks. He keeps it in his mouth sucking while running his tongue over the peak. I try not to squirm too much, but I'm also trying to follow his orders of watching him and it's as hot as fuck!
He moves away from my nipple slightly releasing it from his mouth and blows gently making it pebble, he then moves over to the other one and starts sucking on that while tweaking my now wet and pebbled nipple with his fingers.
I don't know what to watch, I feel like I'm having a sensory overload. He moves away from me down the bed, trailing his lips and tongue down my stomach, over my hips then to my inner thighs. He runs his palm down my sex and then brings two fingers back up to spread my folds apart.
"So pretty," he murmurs, "and so wet," he adds looking back up at my eyes. He leans down and nuzzles his face in between my folds and sucks at my centre. I catch my breath and close my eyes and I feel him move away from me, I open my eyes and look down at him staring at me. "Eyes open," he repeats and I nod and watch him return to my centre. He licks and sucks and eats me, moving his hands under my bum cheeks and massaging them at the same time. He groans as his eyes come up and stare at mine liking that I'm still watching.
I desperately want to close my eyes and it's going against all my natural instincts to observe him, but it's making me so hot watching him enjoy me. Suddenly he stops and I want to moan, but my body is still overloaded with feelings, too many to make sense of anything. He stands up and pushes his jeans down and I realise that I wasn't the only one going commando tonight as his thick cock springs to attention. He moves on the bed straddling me until he's at my shoulders. Then he takes himself in hand and slowly rubs back and forth.
I lick my lips and watch the movements, bringing his cock head to my mouth he growls, "Open." And I do. He moves the head across my lips and I hum with excitement which makes his hooded eyes flare and he says, "Wider." So I open my mouth ready for him and he slides into me, I immediately suction my lips around him and swirl my tongue over his tip. His head falls backward with a groan and I stop what I'm doing.
He looks back down at me and I say, "Eyes," around his cock, which sounds more like, "Esss." He smirks and watches me as I once again suction him and start licking.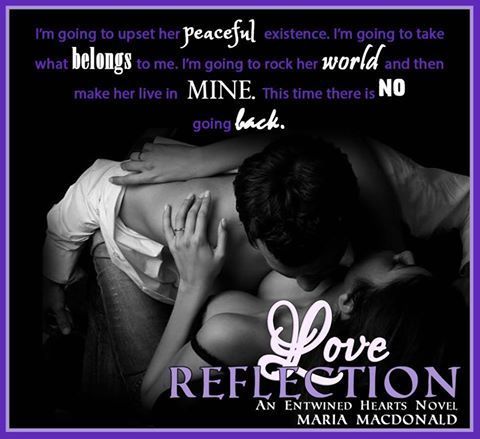 What Others Are Saying

One of the best parts of reading is finding a new author whose writing you just get, it's like finding gold ! ~ Kelly's Kindle Konfessions

I hope this authors reviews flood in soon as in my humble opinion, this being based on her debut novel, her VERY first book [the book 1 of a series] its a pretty darn good read. ~ 2 Friends Pimp Your Books

Well what can I say about Love Reflection?...
Oh I know!... It's AMAZING!
From the very beginning the author Maria Macdonald traps you in wanting to know more but wanting to read it slowly just so you can savor it. ~ Goodreads Review

Maria Macdonald's Novel Love Reflection( Entwined Hearts #1) is wonderful. Love Reflection is a story of friendships and love and raw emotion. ~ Goodreads Review

This book is about first love, second chances, family, and the spectacular idea that no matter what, you're always home if your with the ones you love. Five Fantastic Stars ~ Goodreads Review



Purchase Links
Amazon UK
Amazon USA
Amazon CA
Amazon AUS
About The Author
Maria is a full time working Mum, she has two beautiful daughters, both of whom love books as much as she.

She has loved to write since she was a little girl.

She started her blog - Surrender to Books - in April 2014, and is now one half of the team that run it. Blogging has inspired her to write and publish.

Maria, her husband and children now reside in Wiltshire, England.

Love Reflection is her debut novel and the first in the Entwined Hearts Series.
Stalk Maria
Goodreads
Facebook
Twitter